What is the Bravo Financial Reportwriter?
The Bravo Financial Reportwriter (BFR) is a spreadsheet based financial reporting application. It provides you with the luxury of working in Microsoft Excel and the ability to make intelligent queries of your General Ledger. e.g. "Get me the balance for prepaid insurance for January". By connecting your spreadsheet to our accounting system, BFR turns your spreadsheet application into the most flexible financial reporting application available.
You now have all of the spreadsheet's formatting and layout options available for your financial reporting and analysis needs. You can create, literally any report you desire with virtually unlimited formatting options. Colors, fonts, layout, graphics, charts, etc. are at your disposal.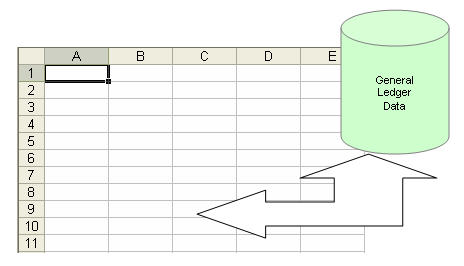 The real advantage to using BFR is that you already have the skills you need to be productive immediately; your spreadsheet skills. BFR is about leveraging your time and your investment in software applications that you already own.
How does it work?
FEATURES :
· Create any financial report you want.
· Never type another general ledger figure into your spreadsheet again.
· Leverage your current spreadsheet knowledge and become productive immediately.
· Create an Executive Information System that works the way you want.
· Create published quality boardroom reports from your own data, today.
· Use WYSIWYG report design methods.
· Create production reporting systems.
· Streamline budgeting procedures.
· Do any ad hoc report or analysis you want... any time.
· Use either Microsoft Excel